Your wellbeing and that of our staff is our number one priority. To help achieve this, all staff have been trained in both the Failte Ireland Safety Charter and the "Safe Destination Kerry" programme. It is our shared commitment to your safety.
The Safe Destination Kerry badge is only displayed in premises where staff have undergone specialised training on cleanliness, hygiene and customer interaction in the COVID-19 environment with the Kerry Education and Training Board. All staff members at Earls Court House have sat and passed all relevant examinations to acquire the safe destination badge.
For your safety and reassurance you will observe the following changes:
Hand sanitiser stations are available at all entry and exit points and throughout the hotel.
Face masks are to be worn in all public areas of the hotel except when seated.
Our staff are wearing face coverings in line with public health guidelines.
Signage is in place to remind everyone to observe social distancing and handwashing.
Where possible doorways are left open to minimise contact
Glass screens are in place on the reception desk and resident's bar counter.
From December 7th all our hotel guests will require Proof of Immunity with identification to access indoor food and beverage services.
Outdoor Hospitality is available for customers who are unable to provide evidence of COVID-19 vaccination or immunity following recovery.
A maximum of 6 adults may be seated at a table
Guests can avail of table service only.
We are required to carry out COVID-19 Contact Tracing.
Visible markings guide you in the hotel lobby, and our staff observe social distancing while checking you in and out.
A slight wait may be expected at busy times, due to social distancing, and we thank you in advance for your patience.
Contactless payment options and e-mail receipts are encouraged. Payment terminals are disinfected after each transaction.
Key Cards are disinfected after each stay
Using the elevator is restricted to one party at a time, due to social distancing.
A comprehensive cleaning and sanitising program is in place for all guest bedrooms and bathrooms with extra attention being given to all high contact touchpoints.
Some soft furnishings including cushions, bedspreads and throws have been removed from our bedrooms as per public health guidelines. The room may appear a little bare but be assured that these changes have been made with your safety and care in mind.
Used linen is washed at a minimum of 70°C for at least 25 mins to kill any potential virus.
Newspapers, magazines and collateral have been removed from bedrooms and public areas as per public health guidelines.
A reduced number of tables are in use in our breakfast room, to ensure social distancing.
Single-use disposable menus are in use while Covid-19 is an issue.
Tableware, placemats and napkins are removed and disinfected after each party has left. Tables and chair arms are disinfected after each seating.
Furniture has been rearranged in our lounges to allow you to enjoy our facilities with proper social distancing.
We trust that these measures will help you relax and enjoy your stay with us.
We look forward to welcoming you.
Emer Moynihan & all the Team
Earls Court House Hotel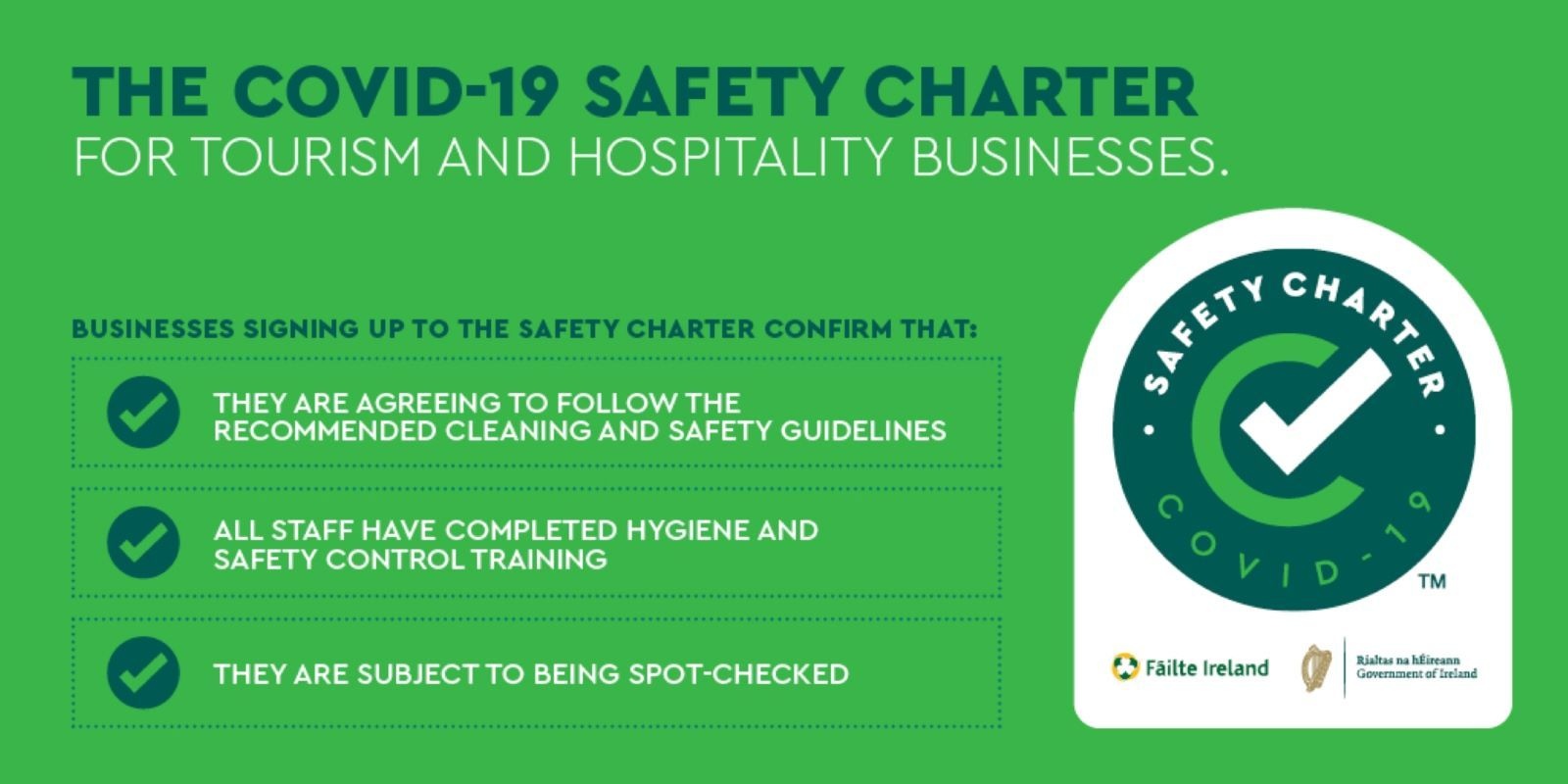 The COVID-19 Safety Charter is a Government-endorsed initiative to reinforce confidence in domestic and overseas visitors in tourism businesses. The COVID-19 Safety Charter is designed to give comfort and reassurance to employers, employees and customers that your business is ready to re-open safely.
Fáilte Ireland has issued sector-specific guidelines for tourism and hospitality businesses to guide them in how best to meet the Government's public health advice; by signing up to this Charter, all employees are agreeing to follow the recommended guidelines.
To be eligible to sign up for the COVID-19 Safety Charter, we agree to adhere to the official guidelines for re-opening relevant to your sector and to ensure that all employees undertake requisite COVID-19 safety & hygiene control training.

Our commitment to Your Safety - All staff have been trained in the "Safe Destination Kerry programme.
The Safe Destination Kerry Programme, a collaboration between Kerry County Council, Kerry Education and Training Board, the Kerry Branch of the Irish Hotels Federation, and the Kerry Tourism Industry Federation is an initiative to show both visitors and locals Kerry is a Safe Destination with a shared commitment to safety.
The 'Safe Destination' Badge will be displayed in premises where staff have undergone specialised training on cleanliness, hygiene and customer interaction in the COVID-19 environment. All staff member at Earls Court House has sat and passed all relevant examinations to acquire the safe destination badge